12th Annual Celebrity Guest Chef Pasta Nights

January 11th-April 26th, 2018
Every Thursday, local celebrities will be front and center to serve guests their freshly created dish of pasta.  A portion of the proceeds, each evening, will be donated to the charity of the Chef's choice.  At the conclusion of the series, Glenora Wine Cellars will match the donation to the charity that brings in the most patrons. 
Let your inner Chef create the most delicious pasta dishes from an array of homemade sauces and ingredients including meats, seafood, fresh vegetables, garlic and herbs!
$19.95 per person, plus tax & gratuity
Includes a fresh garden salad, bread, and unlimited trips to the pasta station!
Reservations Recommended
Reserve a table online now! For parties of 6 or more, please call 800.243.5513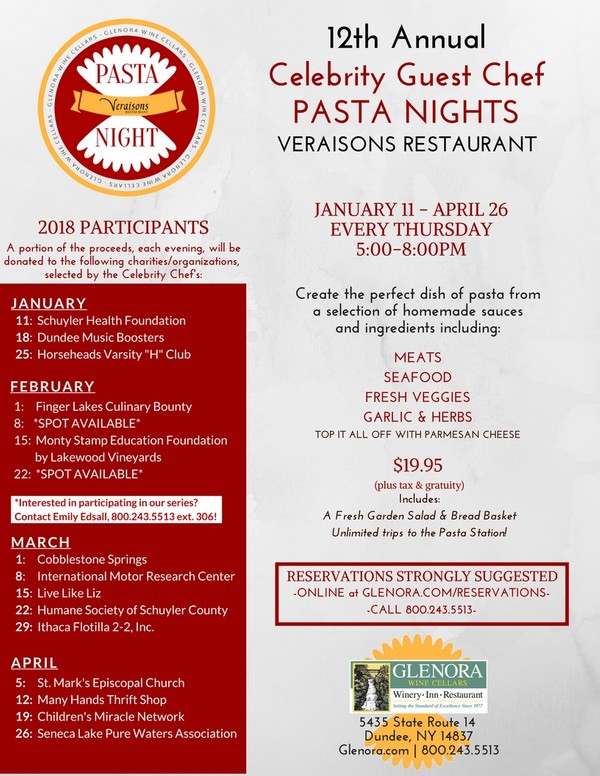 Participating 2018 Organizations:
1/11: Schuyler Health Foundation
1/18: Dundee Music Boosters
1/25: Horseheads Varsity "H" Club
2/1: Finger Lakes Culinary Bounty
2/8: AVAILABLE
2/15: Monty Stamp Education Foundation by Lakewood Vineyards
2/22: AVAILABLE
3/1: Cobblestone Springs
3/8: International Motor Research Center
3/15: Live Like Liz
3/22: Humane Society of Schuyler County
3/29: Ithaca Flotilla 2-2, Inc.
4/5: St. Mark's Episcopal Church
4/12: Many Hands Thrift Shop
4/19: Children's Miracle Network
4/26: Seneca Lake Pure Waters Association
Interested in becoming a part of our Celebrity Chef Series? 
Contact Emily Edsall at 1-800-243-5513 ext. 306 today!